The National Family Dialogue's mission is to unite families across the Nation to strengthen, improve, and sustain substance abuse treatment and recovery systems. We are glad you found us and

…

Read More
Latest News
NFD Update
Don't Miss the NFD Call on 5-25-2016 Mark your Calendars now for this Call:
Heroin and Other Opioids : From Understanding to Action
As we continue our sessions on heroin, You are in for a real treat to hear our guest Speaker, Kevin Collins from the Partnership for Drug Free Kids. The Partnership has developed an incredible resource for parents and families.
The NFD Call will be held this Wednesday May 25, 2016 3:00 PM - 4:00PM Eastern: Call: Phone 1-712-775-7100 Pass code: 455615 These NFD calls are open to everyone.
Join the meeting: https://join.me/thepartnership
On a computer, use any browser. Nothing to download.
On a phone or tablet, launch the join.me app and enter meeting code: thepartnership
Do not use the phone or internet audio options offered by join.me. Use the regular dial in (Phone 1-712-775-7100 Pass code: 455615) instead.
CARA Family Day May 18-19, 1996
NFD Co-chair Sharon LeGore talks about the effects heroin has had on her family and the need to pass and fund the CARA legislation in the next month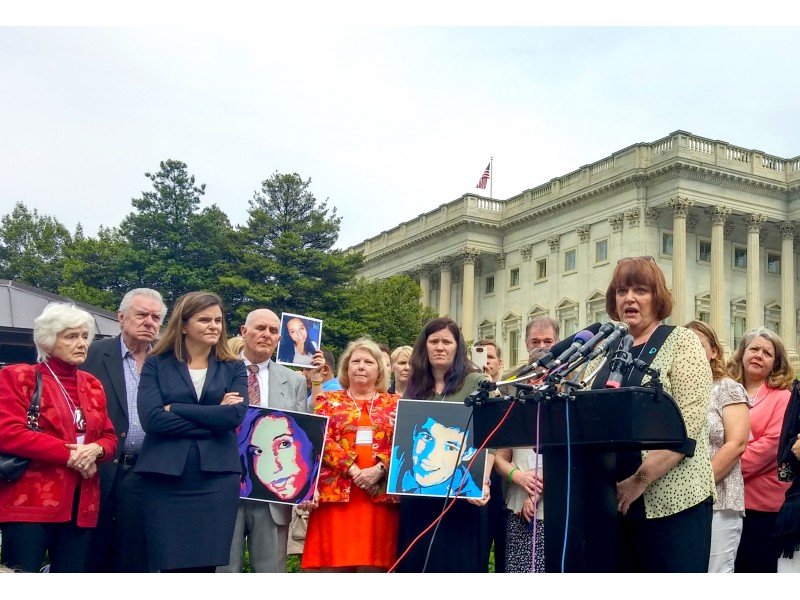 *UPDATE ON CARA*
Cara has passed both the Senate and the House. Since the House version differs from the Senate version of the billl, there will be a conference of select memebers from both the Senate and the House to determine the final version of the bill that will go to the President's desk. Our job this week will be to emphasize the importance of a comprehensivce approach to substance abuse legislation, including resources for preventio, intervention, treatment and recovery. We will laso be emphasizing the need for adequae rresourses to address this crisis and fund subtance abuse like any other disease. The approraions processs has not take place yet so his is really important to adbocate for this week. We need this bill funded as well before it goes to the Presidents Desk : Senate Version House Version
Prescription Drug Overdose Webinar Recording:
The Truth about Opioids: Treating Pain in the United States : Click Here
MOMSTELL News
MOMSTELL President Goes to Capitol Hill
Sharon LeGore, MOMSTELL President/Founder went to Washington DC this week to tell her story of the loss of her daughter to a heroin overdose and advocate for the passage and funding of the opioid legislation CARA. She testified before a Congressional Hearing with Families Impacted by the Opioid Epidemic and then again spoke at the National Press conference Thursday. The first picture of this article, Mrs. LeGore is speaking at the podium
Addiction's Toll: 129 Families Share Their Loss
Partnership for Drug Free Kids Responds to Youth RX with "Breaking Points" Short Film:
New Research: Stress, Anxiety Play Large Role in Life of Teens, Many Resort to Using Rx Medicine Not Prescribed to Them to Cope With Daily Pressures. To view the Trailer, click on: Breaking Points Trailer
Community Reinforcement and Family Training (CRAFT)
CRAFT teaches family and friends effective strategies for helping their loved one to change and for feeling better themselves and works to affect the loved one's behavior by changing the way the family interacts with him or her. It is designed to accomplish three goals: CRAFT helps families move their loved one toward treatment. CRAFT helps reduce the loved one's drug and alcohol
use. CRAFT improves the lives of the concerned family and friends.
CRAFT 20 Minute Guide For Parents
CRAFT: 20 Minute Guide CRAFT is a skills-based program that impacts families in multiple areas of their lives, including self-care, pleasurable activities, problem solving, and goal setting.

"Interactive Guide"

CRAFT Video

If you or someone you know needs help with heroin use, call: Toll-Free Helpline at 1-855-DRUGFREE or visit the website drugfree.org/heroin.